The job market in Luxembourg is characterized by an international and multicultural environment, an exceptional rate of the foreign and multilingual labor force, a predominance of the service sector and an unemployment rate below the European average.
QUALIFIED WORKFORCE
Luxembourg's workforce enjoys the best productivity in Europe. Luxembourg has the best position because the ratio between highly qualified staff and the active population is 50%. An experienced and qualified active population of 5 million people is available in the Grand Duchy and the bordering areas (Grande Région).
TOTAL INTERNAL JOBS :
442 772 PEOPLE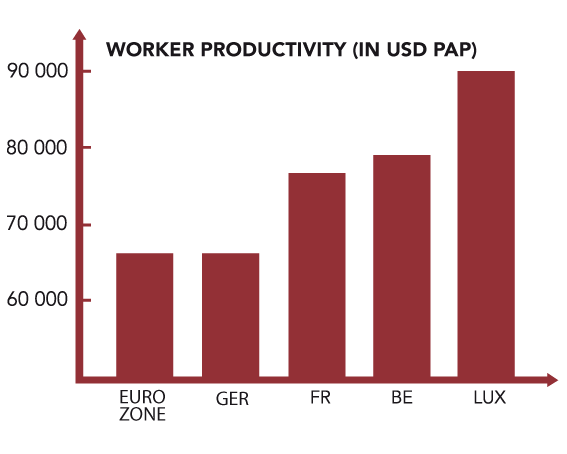 INTERNATIONAL ENVIRONMENT
In addition to cross-border workers, Luxembourg employs workers from all over the world, especially European workers, which considerably facilitates commercial exchanges. The Schengen Zone ensures freedom of movement of the workforce.
MULTILINGUALISM
Workers in Luxembourg fluently speak french, german, english, portuguese, italian and luxembourgish, which allows local companies to expand internationally.
CORPORATE & EMPLOYER CHARGES
Corporate charges in Luxemburg are among the lowest in Europe with 16% tax compared to 26.5% in the European Union (Germany: 39.4%, Belgium: 50.3%, France: 51.7%).